Tag Archive | biodiversity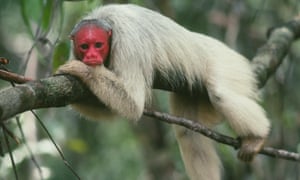 Renowned biologist E.O. Wilson wants to set aside half of the planet as protected areas for nature. But is this possible? And, if so, how would it work?
http://www.upi.com/Science_News/2016/05/03/Study-Earth-may-host-1-trillion-species/7691462279730/?nll=1
A new study suggests our knowledge of Earth's biodiversity is extremely limited. According to the numbers recently crunched by scientists at Indiana University, 99.999 percent of the planet's species remain undiscovered.
http://www.theguardian.com/environment/2014/oct/06/un-biodiversity-report-failure-meet-conservation-targets?CMP=EMCNEWEML6619I2
International efforts to meet targets to stem the loss of wildlife and habitats are failing miserably, according to a UN report.

The Global Biodiversity Outlook 4, published as nearly 200 countries meet on Monday in South Korea in a bid to tackle biodiversity loss, paints a damning picture of governments' efforts to meet a set of targets agreed in 2010 to slow the destruction of species' habitats, cut pollution and stop overfishing by the end of the decade.