"Pizzly or grolar bear: grizzly-polar hybrid is a new result of climate change"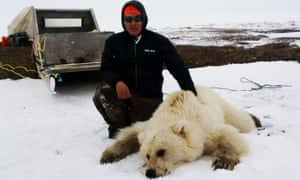 Climate change is known for swelling the oceans and fueling extreme weather, but it may be also causing the curious emergence of a new type of bear in the Arctic.

A bear shot in the frigid expanse of northern Canada is believed to be a grizzly-polar bear hybrid, a consequence of the increasing interactions between the two imposing bear species.
Tags: alaska, Climate Change, grizzly bears, polar bears
About isabellew9873
My name is Isabelle Whitehead. I was a member of the Bolton School group on the Operation Wallacea 2015 expedition to Peru.
Recent Posts
Top Posts & Pages
We're Off !
The Big Day
July 12th, 2015
Operation Wallacea Peru 2015 begins.