Doomsday Clock stuck near midnight due to climate change and nuclear war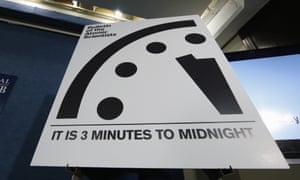 The Doomsday Clock, the symbolic countdown to humanity's end, remained stuck on the brink of the apocalypse for a second year on Tuesday, because of the continued existential threats posed by nuclear war and climate change.
Tags: Climate Change, doomsday clock
About isabellew9873
My name is Isabelle Whitehead. I was a member of the Bolton School group on the Operation Wallacea 2015 expedition to Peru.
Top Posts & Pages
We're Off !
The Big Day
July 12th, 2015
Operation Wallacea Peru 2015 begins.