"Biologists race to save fish from Brazil river contaminated by dam collapse"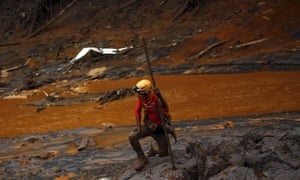 http://www.theguardian.com/world/2015/nov/07/dozens-missing-in-bhp-vale-mine-disaster-in-brazil-as-rescue-continues

Teams of biologists are rushing to rescue fish from a river that was contaminated after two dams at an iron ore mine in Brazil collapsed earlier this month,unleashing a deadly wave of mud.

Mining company Samarco said in a statement that it was providing logistical support to the so-called Operation Noah's Ark effort aimed at saving aquatic life from the now-turbid waters of the Doce river. Experts have warned that the ecological harm caused by the 5 November breaches could last a generation.