"Kangaroo flatulence research points to new climate change strategy for farmers"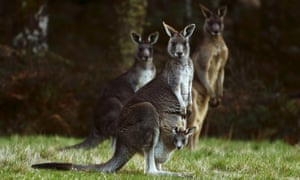 http://www.theguardian.com/science/2015/nov/05/kangaroo-farts-could-have-implications-for-farmers-in-climate-change-fight?CMP=EMCNEWEML6619I2

New analysis of kangaroo farts suggests their low methane levels could have implications for farmers in the fight against climate change.

It has long been known that kangaroos – unlike sheep and cattle – produce little of the potent greenhouse gas methane.

For some time, researchers intent on breeding less windy flocks and herds hypothesised kangaroos might have a unique mix of micro-organisms in their stomachs that produce less of the gas.